Residential Roofing Replacement and Installation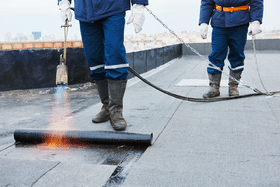 Frederick Roofers is a Frederick, MD area roofing contractor specializing in flat roofing repairs & installations for residential and commercial properties. We believe that great worth deserves great work. This fundamental truth is the cornerstone on which our company was established.   We strive for quality craftsmanship in every area of our work, whether the job is large or small.
Our objective is to surpass your expectations, while maintaining your schedule and budget. We consistently provide high-quality products, fair pricing, and remarkable customer service. From beginning to end, our team is devoted to meet your roofing repair, installation, or replacement needs.
We are a top-quality roof installation and repair contractor serving residents and businesses in the Frederick, MD area. As such, our roofers provide a comprehensive spectrum of roofing services that proves what a difference a good-looking roof can make. Whether you need to repair your flat roof, or you wish to install a new flat roof on your home or business, we guarantee 100 percent satisfaction.
We have been in the industry for many years, and we bring our knowledge and expertise to every project we undertake. When you hire a Frederick, MD roofing contractor, you should feel comfortable with the services and prices. This is why we stand behind all our work and our estimates.
Your time is valuable to us, and our painters respect your time throughout our service. We keep the work area clean at all times. When the job is completed, all you are left with is a beautiful roof.
If you are in need of other services besides flat roof repairs and installations, we have got you covered. Our team provides everything from gutter installations to shingle replacements. From top to bottom, we want to give you the look of a well-kept residential or commercial property.
When you make an appointment with us, you can rest assured we will arrive on schedule. If you want to modernize the look of your roof, there is no need to call another Frederick, MD roofing company. Our crew is on the job and ready to serve.
With us, customer satisfaction in every roofing, gutter installation, and repair project is our ultimate goal. Our experience and track record for successfully completing projects for residential and commercial properties in the Frederick, MD area gives residents confidence that they will be pleased with our services. As world-class roofing contractors, we take pride in providing outstanding work and excellent customer service.
Experience and knowledge are important factors when choosing a Frederick roof repair and installation business. Our crew likes to make roofs look better, and it shows in our work. We are craftsmen, and we pride ourselves in remarkable work. Most people can nail a shingle to a roof; however, it takes skill and competence to do it well and make it last.
If you are thinking about updating the roof on your home or business, there is no more affordable and quicker way to do so then with a roof replacement job. Our roofers derive great pleasure in doing so. Other than a job well done, our team knows cleanliness and efficiency are at the top of the list for property owners. When you want to get your slate roof or tile roof back to its original condition, try Frederick Roofers.